collected images of authentic vintage wallpapers

sourced from old stock rolls circa the 1920s -1960s

our physical collection made digital

and this is just the beginning...

Hannah's Treasures Collection
collected images of authentic vintage wallpapers
sourced from old stock rolls circa the 1920s -1960s
our physical collection made digital
and this is just the beginning...
Hannah's Treasures Collection
Hello there!
Welcome to Vintage Wallpaper Archive!
Vintage Wallpaper Archive is a library of digital scans of authentic vintage wallpaper patterns. Our goal is to bring you authentic vintage source material from the 1920s through the 1960s for your own creative use today. We're a branch of Hannah's Treasures Vintage Wallpaper, so you can trust our quality and care of the designs as we preserve them.
Our Hannah's Treasures collection has been growing for over 30 years, and in that time, we've made a practice of saving a last remnant of each pattern before it's sent away for good. Vintage Wallpaper Archive is our labor of love decades in the making. As we unpack our tucked away remnants for scanning and releasing back into the world, we're grateful for the opportunity to share these fantastic pieces of design history with future generations. May these designs continue to inspire beyond their physical lifetimes.
We're adding patterns regularly, so stick around and see what else we uncover.
There's more and more and more to come!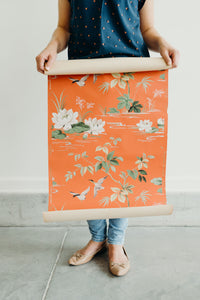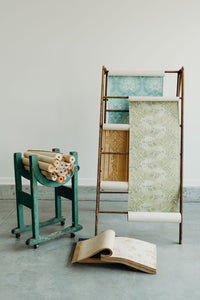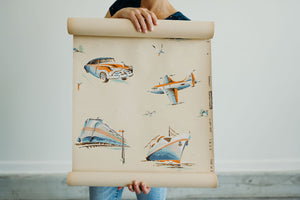 Check out our about page
to learn more about who we are and the kind of vintage wallpaper goodness we're trying to share with the world.